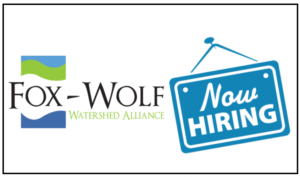 AQUATIC INVASIVE SPECIES COORDINATOR – WINNEBAGO SYSTEM
The Fox-Wolf Watershed Alliance (FWWA) is making a difference and so can you! FWWA is working with partners to protect, restore and sustain the water resources of Wisconsin's Fox-Wolf River Basin. FWWA is expanding our programming to include Aquatic Invasive Species Coordination for the Winnebago System and are seeking a coordinator to aide in program development and implementation.
JOB DESCRIPTION
The Aquatic Invasive Species (AIS) Coordinator is a full time (average 35 hours/week) position located in our Appleton office. While reporting directly to the Winnebago Waterways Program Coordinator, the AIS Coordinator is responsible for working in cooperation with other agencies/partners to update and implement a comprehensive AIS prevention program for the Winnebago System with focus on Lake Winnebago, Lake Poygan, Lake Winneconne and Lake Butte des Morts. This work includes but is not limited to: outreach to educate the public on the presence, threat, and prevention of aquatic invasive species; AIS inventory and evaluation; monitoring and/or control of current or potential invasive species; leading rapid response for any new infestations identified; watercraft inspections; volunteer recruitment, training, and coordination; grant writing and management; and any other aspects of an invasive species program that may arise. We are looking for a self-motivated, independent and detail-oriented individual who is passionate about the mission of FWWA.
Full details are listed below.
ESSENTIAL JOB FUNCTIONS
Serve as Coordinator, Liaison, and Mentor for all AIS functions in the Region, partnering with lake associations, County, State, Federal & Tribal agencies, to include but not limited to: grant applications & reporting, permits & licensing procedures, project development and implementation, establishing strategies for the prevention and control of AIS, participation in meetings, email listserv, training sessions, research participation, and any other events that may occur. Create, expand and nurture an active network of stakeholders and volunteers interested in AIS issues in the region.
Clean Boats, Clean Waters – Serve as regional coordinator for Clean Boats, Clean Waters watercraft inspection activities. Work with statewide CBCW coordinator and other counties to streamline delivery of training and materials and to expand CBCW network. Maintain working list of lakes/boat landings with active CBCW efforts and prioritize lakes/boat landings for new CBCW efforts. Work with interns and local groups to ensure complete and accurate data reporting into SWIMS. Supervise, train and coordinate scheduling of any invasive species staff including CBCW interns.
Citizen Lake Monitoring – Serve as regional coordinator for Citizen Lake Monitoring Network aquatic invasive species monitoring. Work to expand the CLMN in the Winnebago System by recruiting and training new volunteers. Work with statewide CLMN coordinator and other counties to streamline delivery of training and materials. Maintain working list of lakes with active CLMN efforts and prioritize lakes for new CLMN efforts. Work with volunteers and local groups to ensure complete and accurate data reporting into SWIMS.
Public Education and Outreach – Work with all interested partners to build a strong public outreach program. This program may include, but is not limited to: bait shop dealers, angling tournaments, lake associations, duck hunting clubs, greenhouses and nurseries, school science classes, etc. Work to expand and support existing AIS programs including, but not limited to: biocontrol of purple loosestrife, ProjectRED, and Water Action Volunteers. A component of this outreach will be the maintenance of an AIS webpage and AIS signage at all public/private waterfront access points.
Rapid Response – Coordinate a Regional rapid response team to assist the WDNR, Counties and lake associations with any new AIS infestations (existing or newly identified) and to establish a containment and control program.
Aquatic Plant Management – Work with lakes groups to monitor and map aquatic plants and develop native plant protection and invasive plant control plans. Help plan, implement, and conduct aquatic invasive species treatment strategies for current AIS infestations, to include Japanese Knotweed and Phragmites, and any infestations that may be identified in the future.
Administrative Duties – Complete all AIS grant reports, documentation and correspondence as necessary or requested. Share success stories and photos through social media, FWWA website, and with statewide AIS contacts through AIS listserv. Develop region wide maps for particular AIS species of concern (e.g. purple loosestrife; zebra mussels) to include lakes deemed "susceptible" by DNR criteria. Ensure that data are reliable, accurate, and compatible with statewide data tracking systems (i.e. SWIMS).
POSITION REQUIREMENTS
KNOWLEDGE, SKILLS, ABILITIES:
Ability to self-start and to work independently without close supervision.
Experience with Microsoft Office suite (including Excel and Power Point).
Working knowledge of website updating using WordPress.
Working knowledge of popular social media sites.
Excellent and effective interpersonal and customer service skills and experience including strong oral and written communication skills
Ability to identify and survey aquatic macrophytes and conduct water quality monitoring. Plant identification experience is beneficial with a focus on aquatic species.
Ability to identify aquatic invertebrates and fishes.
QUALIFICATIONS:
Bachelor's Degree, preferably in a natural resources field.
One or more years of relevant work experience.
Demonstrated experience in building networks and coordinating projects with multiple stakeholders.
OTHER REQUIREMENTS
Possession of a valid Wisconsin driver's license and access to an insured, reliable vehicle for job use.
Ability to travel throughout the Winnebago System.
The work requires some physical exertion related to rough terrain, carrying equipment, and climbing
steep banks, wading in shifting lake/stream beds, working on a boat or kayak, gathering of vegetation for
sampling which includes repetitive upper body motions, bending and twisting to inspect boats and
trailers.
Ability to operate and maneuver a vehicle with a boat trailer attached.
Evening, weekend, and holiday hours may be required as necessitated by the demands of the position.
Ability to obtain a Wisconsin DNR boater safety certificate within six months of hire.
APPLICATION INSTRUCTIONS
The Fox-Wolf Watershed Alliance is an Equal Opportunity Employer and we'd love to hear from you!
Pay based on experience $16-$19/ hour; full-time employees with FWWA receive vacation and holiday pay. We do not offer health/dental packages at this times.
To ensure your application is considered, interested candidates should forward a cover letter, resume, and short writing sample to the following email address: jessica@fwwa.org by end of the day on Friday, March 3rd, 2017. Position will remain open until it is filled. We look forward to hearing from you!