Soil Health Challenge
Winnebago County Land and Water Conservation Department (LWCD) is currently accepting applications for the "Soil Health Challenge" (A Soil Health Demonstration Farm Program)
APPLICATION DEADLINE IS AUGUST 31, 2017!! 
The Winnebago County "Soil Health Challenge (SHC)" is a program designed to reward participants that are willing to work with the Land and Water Conservation Department (LWCD) to commit a portion of their cropland to no-till farming coupled with well managed cover crops in an effort to educate themselves and other producers on the many benefits of improved soil health.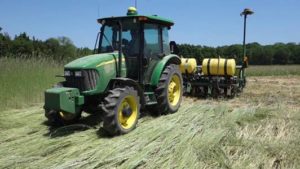 Applicants for the SHC will be required to meet the program requirements in order to receive the incentive payments. They will also be asked to open their field(s) for public viewing at certain times of the year and open their minds to a new and exciting shift in the way they manage cropland.
Participants will be selected by the LWCD for participation in the SHC based on location, soil types, cropping program, and willingness to join the LWCD in a long-term commitment to learn about and promote soil health in Winnebago County. Each participant's field(s) will be identified with signage to communicate its purpose and to recognize the landowner's commitment to soil health and water quality improvement.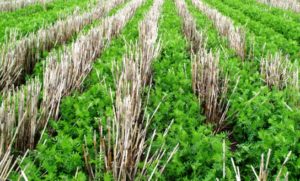 Landowners already receiving cost-sharing or payments for the establishment of cover crops or no-till farming are not eligible.  All agreements for this program will be approved by the Land Conservation Committee (LCC).
Program Criteria
Rotation must be annual crops (corn, soybeans, winter wheat, etc.).
The cover crop must be established by freeze-up (soil frozen at least one inch deep throughout the field) or by December 15th, whichever is first. There must also be a minimum of 8 live plants per square foot representing a majority of the species in the cover crop mix.  (Plant square verification)
The cover crop mix must contain a minimum of two different species except following corn harvested for grain, one specie is acceptable with LWCD approval. The cover crop mix must contain a minimum of four different species following winter wheat or other crops harvested before August 15th. Winter wheat planted for grain will be considered an acceptable cover crop for that year.
The landowner must commit 10 to 20 acres of cropland located for easy public viewing.
The landowner must be in compliance with the agricultural performance standards or willing to comply within three years.
No tillage of any kind is allowed in years two through six of the agreement unless preapproved by the LWCD. Unapproved tillage will void the agreement and no further program payments will be provided.
The landowner must do a soil health test in the contracted field in years one and six of the agreement as directed by the LWCD.
No mechanical harvest of the cover crop is allowed. "Managed Grazing" may be allowed with prior approval from the LWCD.
The landowner must allow signage to be installed in an agreed upon area and allow controlled public access for viewing of the field for any educational events planned by the LWCD and the landowner.
Landowners will be compensated for their commitment to the program according to the following performance based payment schedule.
*Enrolled cropland must be no-till planted in years two through six in accordance with the program or the agreement may be terminated. If an enrolled crop field is not planted due to weather, it is not considered a year of program achievement and the next payment would not be increased until that year of the program is achieved.
Example: In year four of the agreement the landowner does not meet the program requirements for the $100.00/acre payment due to prevented planting and
receives no payment. Therefore, the payment for the fifth year of the agreement would be considered as successfully completing the fourth year and the landowner will receive $100.00/acre.
**Tillage, both subsoil and surface leveling/finishing, may be used and is recommended to properly prepare the site for a life of continuous no-till. Conventional planting equipment may be used as well. It is preferred that year one (site prep) is done following winter wheat or soybeans.
TO LEARN MORE ABOUT THE PROGRAM PLEASE CONTACT WINNEBAGO COUNTY LWCD AT 920-232-1950 OR 920-727-8642.
FIND OUT IF YOU ARE AN ELIGIBLE CANDIDATE FOR THE "SOIL HEALTH CHALLENGE"! APPLICATION DEADLINE IS AUGUST 31, 2017!!
CLICK HERE to download a PDF version of this information
Article submitted by: Tom Davies, Winnebago County LWCD
The views and opinions expressed by external organization do not necessarily represent those of Fox-Wolf Watershed Alliance. Therefore, we cannot be held responsible for the accuracy or reliability of information provided by external parties.