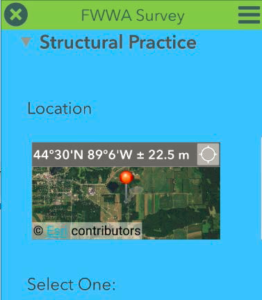 Fox-Wolf Watershed Alliance, along with partners from Outagamie, Winnebago, Brown and Calumet Counties, have pioneered a GIS based tool to track resource concerns as well as planned and installed agricultural best management practices.
The mobile application and desktop tool has been designed to increase efficiency of County Land Conservation staff, aid in grant development and assist with tracking and verification of best management practices installed and funded through a variety of sources.
Over the past two years, the project team has examined conservation staff workflows, relationships between conservation practices and projects, verification requirements for a variety of funding sources and the need for the system to interact with county systems as well as ensure reporting outputs meet the needs of other agencies.  We are pleased to announce the system is currently in "beta" testing on the ground and we anticipate being ready to introduce the tool other county land conservation departments who may be interested in using this low cost workflow management/BMP tracking option early in 2018.
This project was made possible with funding through a Great Lakes Restoration Initiative (GLRI) grant awarded to the Fox-Wolf Watershed Alliance and a grant from the Community Foundation for the Fox-Valley Region.