The Water Hero project in Oshkosh wrapped up last month, and saw great success educating an estimated 5,000 or more residents in the area on how stormwater travels to our nearest lakes and rivers through storm drains, and the types of pollution that are picked up by stormwater running off the landscape. The project formed with a partnership between the Oshkosh Southwest Rotary, the City of Oshkosh, and the Communities 1 classes at Oshkosh North. The program aimed to bring awareness to stormwater runoff pollution in the City, with the project targeting specific neighborhoods that were shown to have a significant amount of garbage and natural debris built up in their storm sewer outflows.
Fox-Wolf Watershed Alliance was invited to come in and speak with the Communities 1 classes and discuss in depth the types of pollutants that are carried into our lakes and rivers by stormwater. The Communities 1 class at Oshkosh North consists of freshman and sophomore students who engage through service-learning projects that provide education and hands-on experiences for students and benefit the surrounding community. The students utilized the Renew Our Waters PowerPoint and messages in their presentations to 4th and 5th grade students and appeared to have a great time teaching the students about area stormwater issues and practices that can improve the quality of our waters.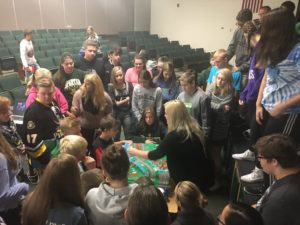 The program consisted of stormwater outreach and education in elementary schools, engaging with neighborhood associations, creating and distributing door hangers with stormwater education, and placing medallions reading, "No Dumping, Drains to Lake Winnebago" on storm drains in the targeted neighborhoods throughout the city. Additionally, the Communities 1 students spread the project and stormwater messages further by interviewing on WFRV Channel 5's morning show, interviewing on WOSH's radio program, and sharing their project with the Oshkosh Independent news source. Links can be found below. We want to congratulate the City of Oshkosh, the Oshkosh Southwest Rotary, and the Communities 1 students and staff at Oshkosh North High School, on their hard work and success on this awesome project. We look forward to hearing them speak about their work at our 2018 Watershed Conference in March!
Below is an image of the medallion that was placed on storm drains in neighborhoods in the throughout the City of Oshkosh