Over 20 volunteers sign up for the Watershed Cleanup and Aquatic Invasive Species (AIS) Citizen Monitoring efforts
Kelly and Chris were at the 2017 VolunteerFEST on November 28th at Waverly Beach in Menasha. This annual event is put on by the Volunteer Center of East Central Wisconsin. VolunteerFEST gives eager volunteers an opportunity to meet with 50 local non-profits. The Fox-Wolf Watershed Alliance and Winnebago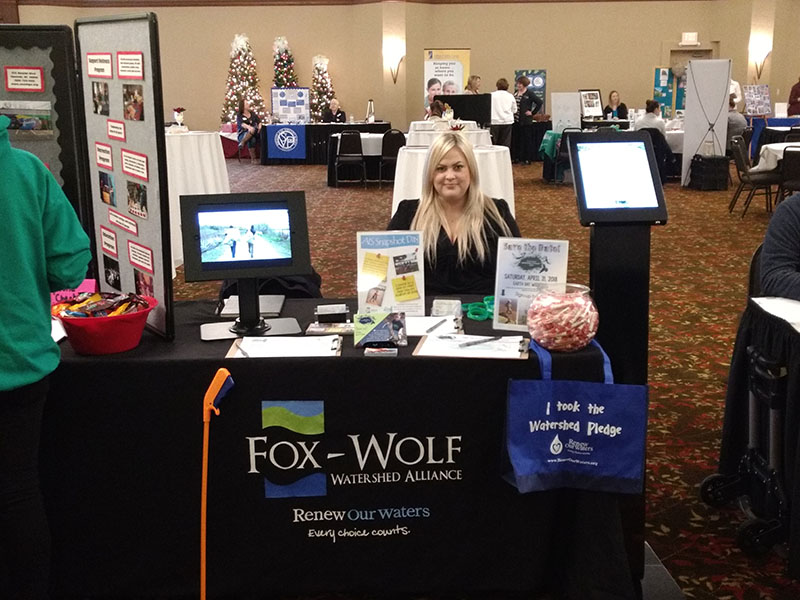 Waterways Program was at the event to recruit volunteers for both the Watershed Cleanup Day and Aquatic Invasive Species (AIS) Citizen Monitoring efforts. The volunteers who signed up for the Watershed Cleanup Day will help clean up our waterways on April 21, 2018 and enjoy free lunch and family activates! While registration doesn't open until February, if you are interested in signing up to be a Site Leader, click HERE! The volunteers who signed up will also be contacted in the future for AIS monitoring programs such as Clean Boats Clean Waters, the Citizen Lake Monitoring Network, and Project RED. Our programs rely on generous individuals who donate their time to help search for invasive species in our lakes. We are very thankful for everyone who came to event and those who signed up to volunteer with the Fox-Wolf Watershed Alliance!
If you are interested in signing up for the Watershed Cleanup Day or to help with AIS monitoring, please contact Outreach Specialist Kelly Reyer at kelly@fwwa.org (920-915-1502) or AIS Coordinator Chris Acy at chris@fwwa.org (920-460-3674).
Follow the Fox Wolf Watershed Alliance's Winnebago Waterways Program on our Winnebago Waterways Facebook page or @WinnWaterways on Twitter! You can also sign-up for email updates at WinnebagoWaterways.org.
Winnebago Waterways is a Fox-Wolf Watershed Alliance program. The Fox-Wolf Watershed Alliance is an independent nonprofit organization that identifies and advocates effective policies and actions that protect, restore, and sustain water resources in the Fox-Wolf River Basin.
This article was written by Chris Acy, the AIS Coordinator for the Winnebago Waterways Program covering Calumet, Winnebago, and Fond du Lac counties.