Waterway Wonders, Musings on the magic we have here.
Here is the first trickle of Waterway Wonders, our newsletter's newest column. Each month, free-lance writer Lynn Kuhns will take a look at one seasonal, every-day or newsworthy facet of the Fox/Winnebago waterways and offer something somewhere between an essay and a poem that may touch on your life experiences — memories, concerns, dreams and missions. Lynn welcomes your response via e-mail to writewoodz@charter.net.
There's More to This Ice Than Cold and Water
How is this, for a February fantasy: You have free admission any time of day to an extraordinary semi-private art gallery. In this enchanted place, you can watch as au pleine masterpieces evolve.
Visit it once and you're in awe of a massive, crystal-like sculpture created overnight. Visit it again to enjoy daring leaps of wondrous change. Still another day, you're stopped to consider alterations that seem to humble it. Until it vanishes.
You can feel the message of this mighty artwork, vibrant with an ancient, icy power frosted with raw beauty. The time of day affects its effect on you. It may loom immense and ill defined in morning's glow. It can surge clear, crusty and sassy-sharp at midday. Sundown brings a quiet, ponderous pink easing. And at night? — Well, who knows?
Listen, there in the chill of your gallery. Audio artistry may be involved–a throaty moan of expansion-pain groaning large underfoot; a traveling cry slicing sharp with change longing for its end. And all that so-white silence.
It is a masterpiece of a sculpture, masterfully created–some say by God or Mother Nature–certainly, by a mind-numbing interplay of the laws of physics, chemistry, hydrodynamics and more, all further altered by the work of gravity, temperature, mass, and still more winter.
This art gallery is now open for our enjoyment along hundreds of miles of ice-shoved shorelines. It's secreted within winter-hushed cattail-cathedral wetlands. It may be waiting in your boat slip, or along your favorite trout stream, more heavenly now with its frosty filigree spunk.
I'm witnessing this artistry on the east shore of Lake Winneconne right in front of my boathouse. It's an area affected by the relentless power of winds and ice forces that stampede unchecked all the way across Lake Poygan.
Mid-January, a graceful arch of ice about 20 inches thick and a foot wide arose to span from our riprapped shoreline out over about 12 feet of the lake's surface.
From that, a huge wedge of more ice rose toward the south. Its pitch on both sides were equal–a perfect, roof-shaped sculpture that ran white and glowing about 300 yards. I climbed up a section of it to peer into its length and smile into a softly illuminated ice-fort about four feet wide at its base, four feet tall at its peak.
Yes. There's something very new here. My dog scurried along the base of the roof-rise, then scrabbled her way up its slant to slide down and nose into the end-opening until I called her back. Although shallow, there was the possibility of open lake water under that buckle.
Over weeks, that long work of shove art morphed as warmth and rain, then freezing temperatures and spring-again! teases played with its forms. It was alternately accented with huge ice-teeth, slanted shimmering ledges the size of Volkswagen bugs, and rolls of snow-white that hinted of something voluptuous, but later raised high to show an underbelly of sand, gravel and rocks that once were at the bottom of the lake where my pier goes out in summer.
That graceful arch later bent some, then seemed to have collapsed on itself. The fort-wedge roof settled down, its rough west wall overlapping its east slopes erratically. The play of snowmobiles' tracks was etched on its slip 'n' slide side, then melted.
By early February, this once-mighty masterpiece is less reflective of impressions of man-made structures and playgrounds and more like a modern work of art chilled with random angst. Perhaps what I see now is the abstract of a cold old mind gone a bit mad with all this up-down winter.
Well. Our lakeshore art gallery surely will see more melting and more freezing. Until its final melting and a banging-about of ice chunks evolve and dissolve into something I will swim in, come summer.
Now that's a fantasy.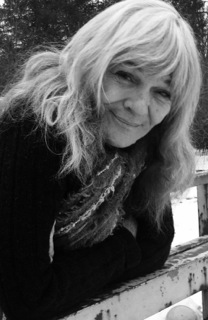 Article written and provided by Lynn Kuhns. Lynn Kuhns, a free-lance writer with more than 30 years professional writing and publishing experience, lives and writes in Winneconne, WI. Widely read in magazines, newspapers, literary journals and other publications, Kuhns' articles and columns often relate to Wisconsin's habitats, outdoor recreation and the interactions of nature with the art of being human. She designs and teaches creative-writing workshops and classes, and is available for speaking engagements. Contact: writewoodz@charter.net; phone 920-582-0233.