Saturday, April 22nd, 2017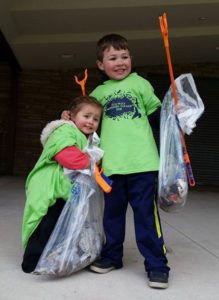 Registration Closed!
As of 8:30 on Thursday we have 782 Volunteers Registered for Saturday's Cleanup!
Thank you for this awesome response!
Due to site sizes and cleanup supplies already being distributed we must close registration.
If you still want to join the effort, please fill out the waiver form and bring your own garbage bag with you to help cleanup.
Sites will be crowded with volunteers and the cleanup may go quickly but we couldn't be happier!
Next year, we will add more sites and get more supplies!
We hope to see you at the picnic!
at the Refuge
1000 N. Ballard Road, Appleton
Lunch, music by J-Council and inflatables beginning at 12:00
Fill out your Volunteer Waiver form!
A waiver must be filled out for each volunteer. If volunteer is under 18 a parent or guardian must fill out the waiver. Once you fill out your online waiver, you will be redirected back to this page to finish your registration and choose your Cleanup site!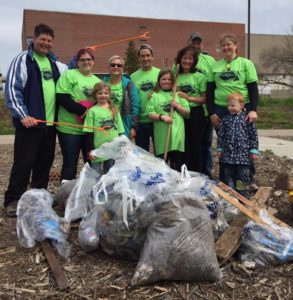 Event Details:
Saturday, April 22nd, 2017
Cleanup: 9:00am – 11:30am
Volunteers report directly to the cleanup site they registered for.
Site leaders hand out t-shirts and supplies and volunteers get to work!
Picnic at The Refuge: Noon to 2:00pm
Lunch, music, bounce house, climbing wall, prizes and more wait for all volunteers at the Refuge!
1000 N. Ballard Road, Appleton
Everyone is welcome to volunteer!
Advance registration is requested to ensure proper supplies are onsite.
Every volunteer needs to fill out a waiver.  This year, our waivers are online!
What is a Watershed Cleanup?
Each year hundreds of volunteers visit one of over 40 sites throughout our watershed to remove garbage and debris. Our annual cleanup aims to build a sense of community and increase understanding of the environmental stewardship necessary to improve water quality in our region.
What do volunteers do?
Volunteers start the morning at their assigned sites to cleanup up garbage and debris. Then, at noon, volunteers gather at FWWA headquarters in Appleton for the annual Cleanup Picnic to enjoy lunch, live music, educational exhibits, and games – it's fun for the whole family!
There are over 40 cleanup sites located along the Fox River, the Wolf River, Lake Butte des Morts, and Lake Winnebago.
Thank you 2017 Event Sponsors!