Lake Management Planning Project Details
Lake Management Planning Project Goal and Objectives:
Project Goal:
The goal of this project is to coordinate, communicate, and partner to develop a framework for cooperation throughout the region to improve upon existing programs and efforts that aim to restore or protect the health of the Winnebago Lakes. This includes facilitating communication among stakeholders (including residents and lake users) and multiple agencies to advance collaborative regional efforts that address topics such as: water quality, habitat, fisheries, recreation, public health, and aquatic invasive species.
Throughout the planning process, we will strive to foster positive, long-term relationships with a variety of stakeholders to develop consistent and realistic lake management practices that benefit lake health, area residents, and the local economy. 
Project Objectives:
In order to achieve this goal, the project will:
Advance lake management planning

Pursue grants and other funding
Engage the public and solicit input through outreach and education
Ensure project transparency
"The goal is not to create a new layer of government, but to provide a framework for cooperation that increases the effectiveness and efficiency of existing programs and efforts." (ECT Report, 2014). Click HERE to learn more about past efforts on the System.
Winnebago Lakes – Lake Management Planning Project Area:
Lake Winneconne, Lake Poygan, Lake Butte des Morts, and Lake Winnebago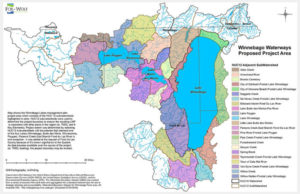 Click the map to enlarge
This map shows the Winnebago Lakes Management Plan (LMP) project area which consists of the HUC12 subwatersheds highlighted in color. HUC12 subwatersheds were used to determine the project boundary to ensure the resulting LMP is consistent with other plans in the region (ie. TMDL). Project extent was determined by selecting HUC12 subwatersheds with boundaries that intersect one of the four lakes (Winnebago, Butte des Morts, Winneconne, Poygan). Parsons Creek-East Branch Fond du Lac River is one exception – it was added at the request of Fond du Lac County because of it's known significance to the System. As data become available over the course of the project (ie. TMDL loading), the project boundary may be revised.
The project structure shown here provides a framework for the lake management planning process. While the basic structure of the framework will remain consistent throughout the project, Technical Teams and Focus Groups may change as new priorities or topics are realized. The framework was constructed in this way to accommodate the often dynamic process of developing a lake management plan for a large water body system.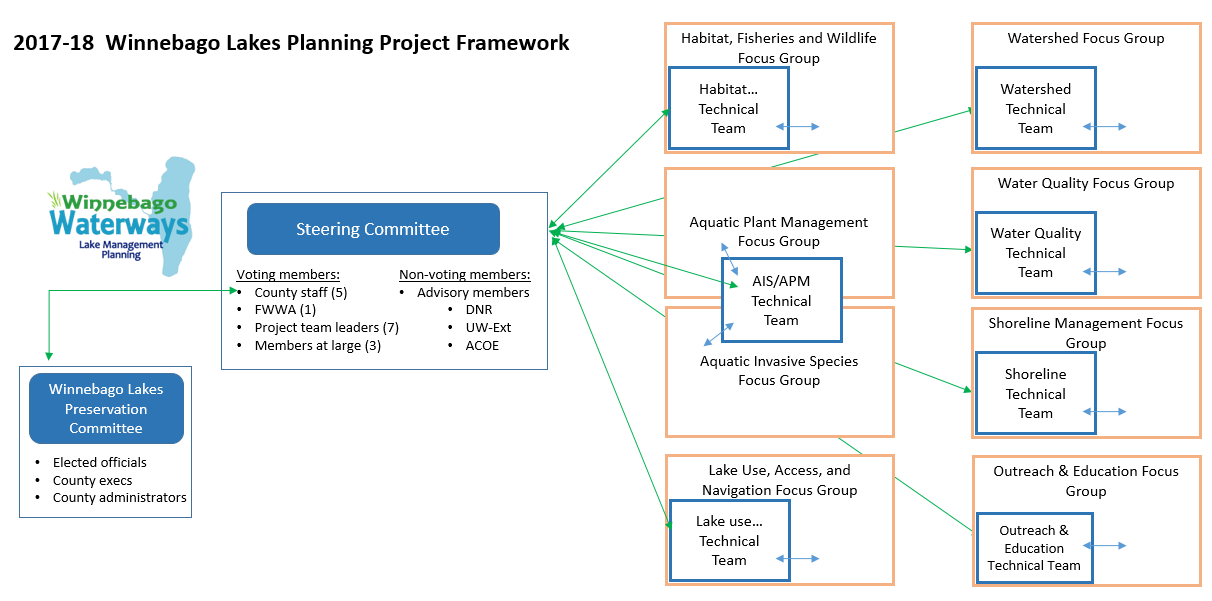 Steering Committee: The Steering Committee drives the project and is made up of 16 voting members and 3-8 non-voting advisory members. The Steering Committee will vote to choose the three members at large. More than half of the voting Steering Committee members should be present to vote on a topic.
Technical teams are small groups of experienced conservation professionals. A Technical Team will be formed for each management topic. Technical Team leaders (one from each Team) will serve as voting members on the Steering Committee. Please note: Aquatic Invasive Species (AIS) and Aquatic Plant Management (APM) Technical Teams chose to join forces and are now one team.
Focus Groups are groups of stakeholders including members of the public. Technical Teams help to facilitate Focus Groups and serve as a communication link between the Focus Groups and Steering Committee.
Winnebago Lakes Preservation Committee (WLPC) will be made up of County Executives/Administrators, County Board Chairs and the Land Conservation Committee Chairs for each county (3 seats for each county) or their approved designee. County representatives on the Steering Committee will serve as the communication link between the Steering Committee and the Preservation Committee.
Technical teams are small groups of experienced conservation professionals. A Technical Team will be formed for each management topic. Technical Team leaders (one from each Team) will serve as voting members on the Steering Committee.
Technical Team Tasks:
Assess, prioritize, and analyze key concerns and issues
Develop goals
Collect relevant information
Analyze and evaluate information; identify and address data gaps
Develop management objectives
Develop list of all possible management actions
With the help of Focus Groups, prioritize and recommend the best management actions
The following Lake Management Planning Technical Teams have been formed:
Aquatic invasive species & Aquatic plant management
Habitat, fish, and wildlife
Recreational lake use, access, and navigation
We will begin forming the following Technical Teams in late July or early August:
Water Quality
Watershed Management
Shoreline Practices
Outreach & Education
Are you a conservation professional, educator, or researcher interested in serving on a Technical Team? Contact Korin at (920)851-0948 or korin@fwwa.org.
Focus Groups are made up of concerned members of the public and organizations (stakeholders). Technical teams help to facilitate Focus Groups and serve as a communication link between the Focus Groups and Steering Committee.
Focus Group Tasks:
Identify major concerns and issues
Help to ensure all relevant interests are adequately represented
Help with community education and outreach throughout the planning process
Provide input to help establish and clarify project goals
Assist with collection of data and information
Help develop evaluation criteria for reviewing management options
Provide input on preferred management actions
Provide input to help prioritize and select best management action recommendations
Interested in being part of the planning process? Sign-up for a Focus Group:
The Steering Committee drives the project and is made up of 15 voting members and 5 non-voting advisory member.
Steering Committee Responsibilities:
Recommends finalize project goals and management objectives to the Winnebago Lakes Preservation Committee
Recommends consultants to fill gaps in information
Provides final recommendations to the WLPC based on focus group and technical team guidance
Drives project through to completion
Initiates and plans for implementation of LMP
Project Funding:
Calumet County, Fond du Lac, and Winnebago Counties contracted with Fox-Wolf Watershed Alliance (FWWA) to help advance lake management planning efforts.
FWWA used the county money as match to leverage four, two-year Wisconsin Department of Natural Resources (WDNR) Surface Water Grants (one for each of the four lakes). FWWA received the grants in 2017. The DNR grants are supplying 50% of the funding for 2017 and 2018, with the other 50% being provided by the three counties.
Additional support for the project is being provided by several organizations through staff time: Fond du Lac County, Calumet County, Winnebago County, Waushara County, UW-Extension, East Central Wisconsin Regional Planning Commission, Fox-Wolf Watershed Alliance, WDNR. We anticipate this list of supporting organizations to grow. For a full list of project partners, CLICK HERE.
Opportunities to get involved – we want to hear from you!
Effective and holistic lake management planning requires input from a variety of stakeholders including area residents, property owners, lake users, and people that rely on Lake Winnebago for their drinking water supply.
To ensure the planning process is truly collaborative, we invite you to participate. Join a Focus Group or sign-up for project updates. You can also send us feedback by clicking here.
Focus Groups are groups of stakeholders (such as area residents, lake users, and other members of the public) interested in actively participating in the development of a lake management plan.
Interested in participating on a Focus Group? Please click the link below to sign-up:
Lake management planning is a collaborative effort between several organizations including county staff, Wisconsin Department of Natural Resources, and Fox-Wolf Watershed Alliance. As we build momentum for Lake Management Planning in 2017, we anticipate the number of participating individuals and organizations to grow. Click here to learn more about our project partners.
Stay informed about project events – sign-up for our program update email list.
Download the Lake Management Planning project fact sheet
Stay informed with Project updates
Subscribe to the Winnebago Waterways email list
Subscribe to the project mailing list to stay up to date on events and opportunities to provide input during the planning process.
Comments or suggestions?
We'd love to hear from you!
Lake Management Planning Updates
Blog articles from our e-newsletter, The Source
Wisconsin Department of Natural Resources video on blue-green algae The DOs and Don'ts of Harmful Algal Blooms Image credit: WI Climate & Health Program Harmful Algal Blooms Toolkit, 2016