Winnebago Waterways are vital our local economy and are important to the outdoor heritage of many people in the region.
Here are just a few examples of the significance of the Winnebago System:
Winnebago System contains 17% of Wisconsin's surface water.
More than 250,000 people get their drinking water from Lake Winnebago.
$234 million per year is brought in to the regional economy because of recreational fishing.
The System offers numerous recreational opportunities through public parks, boating, beaches, and more – all of which are important to area traditions and creating memories for generations to come.
There are many organizations and individuals who have or are currently doing incredible work to help protect and improve the waterways within the Winnebago System. This page is dedicated to providing information about those projects.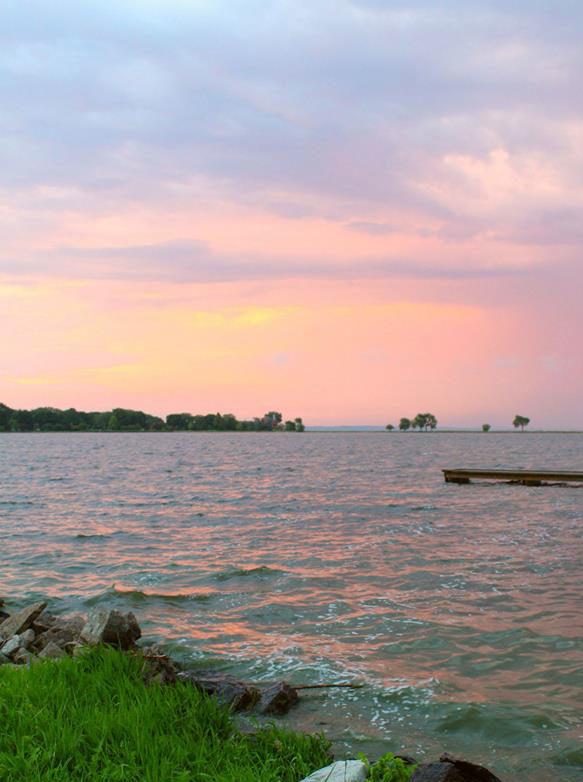 Weigh in on the Winnebago Waterways
Between 2010 and 2012, an ad-hoc group of DNR and UW-Extension staff, residents, and a State Senator formed to discuss the management of a large, multi-jurisdictional lake system. Previous planning efforts acknowledged that management efforts were inconsistent and not coordinated. Many issues remained unresolved throughout the system with new issues having developed since the 1989 DNR plan was written. CEOs from Calumet, Fond du Lac, Outagamie, Waushara, and Winnebago Counties agreed to work together to address system-wide issues. This led to Phase I of the project – Weigh in on the Winnebago Waterways. (Dani Santry – Calumet County Presentation)
Phase I – Weigh in on the Winnebago Waterways
Phase I was partially funded by a Surface Water Planning grant from the Wisconsin Department of Natural Resources. The purpose of Phase I was to gain a better understanding of the social, environmental, and political factors that prevented comprehensive and collaborative management of the Winnebago System. Phase I also aimed to engage the public and other stakeholders to develop a list of issues of concern and ideas for improving water quality and management of the System.
Phase I results:
Phase I resulted in the development of a substantial inventory of data and information that had been collected on the Winnebago System.
Phase I Public Engagement:
Eight in-person public forums and an online forum
Surveys (in-person, online, and mailed)
Press releases, Television, and radio ads
Steering Team meetings (two per month)
Total reach for Weigh in on the Winnebago efforts:
330 completed surveys
341 people provided content online
247 people attended meetings
This video summarizes the final report using many photos submitted by Lake users.
Economic Impact of Angling on the Lake Winnebago System, UW-Extension 2007
Report summary: "In early 2006, a survey was sent to 2,000 licensed anglers. The survey asked questions about anglers' fishing behavior, preferences, trip patterns, spending patters, and demographic information. Approximately 1,200 surveys were returned. Expenditure information was input into a regional economic impact model called IMPLAN. An "economic region" was defined as the counties of Winnebago, Fond du Lac, Calumet, Outagamie, and Waushara.
IMPLAN results indicate that angling contributes $155.5 million of direct spending annually to the economic region. Almost 3,500 jobs are attributed to this direct spending. An additional indirect and induced impact of $78.5 million and 800 jobs is also felt in the region, resulting in a total economic impact of $234 million and 4,300 jobs" (UW-Extension, 2007).
Developed by: Chad Cook and Catherine Neiwswender, UW-Extension
Click HERE to view or download the full report
1989 Winnebago Comprehensive Management Plan, WDNR
In 1989, a management plan for the Winnebago System was developed by the Wisconsin Department of Natural Resources in collaboration with several other resource stakeholders. The goal of the plan was, "to restore, improve, and maintain ecological diversity and quality, and beneficial uses of the fish, wildlife, and water resources of the Winnebago System". Although many of the recommendations outlined by the comprehensive plan having been fulfilled, much has changed since the plan was written. The System faces new challenges which is why several partners are currently working to develop a new Winnebago Waterways Lake Management Plan (LMP). The LMP will provide a framework for strategic, coordinated management efforts as well as open up new funding opportunities to improve the health of the lakes.
To view or download a copy of the 1989 plan, CLICK HERE
To learn more about Lake Management Planning efforts, CLICK HERE