Lake Management Planning for the Winnebago Lakes is moving full-steam ahead!
Three of the project Technical Teams will be meeting for the second time over the next few weeks. Those teams are Aquatic Invasive Species & Aquatic Plant Management, Recreational Lake Use, Access, & Navigation, and Habitat, Fish, & Wildlife. The Teams will review and discuss public input gathered over the past few years and will begin drafting project goals and objectives related to their respective management topics.
The Water Quality Technical Team is in the process of being formed and will likely meet for the first time in early September. Invitations to conservation professionals to participate on the Watershed Management Technical Team will be sent out next week. The Shoreline Practices and Outreach/Education Technical Teams will be formed in September.
Progress continues to be made on the Winnebago Waterways webpage including content related to Lake Management Planning. We invite you to explore the website by clicking here. Currently under construction is a webpage that showcases projects that have or are currently taking place in the Winnebago System. If you know of a project that should be included on the webpage, please submit information about the project by filling out the form that can be found by clicking here.
Interested in getting involved? We'd love to have you join of of the project Focus Groups! Learn more about Focus Groups by visiting the project webpage (click here) or by downloading this project fact sheet. You can sign-up online or contact the Winnebago Waterways Program Coordinator at korin@fwwa.org or (920) 851-0948.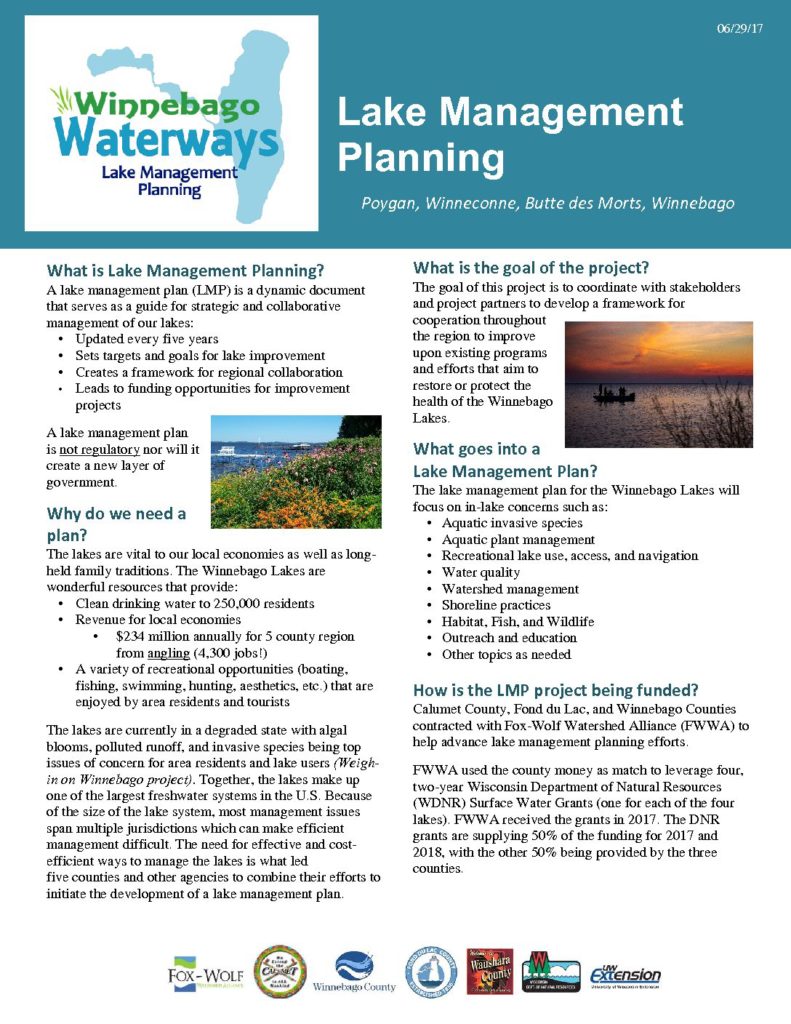 CLICK HERE to download a project factsheet.