This workshop will be hosted by the Northeast Wisconsin Stormwater Consortium. For more information about NEWSC visit newsc.org.
Questions about the Workshop can be directed to:
Chad VandenLangenberg
Fox-Wolf Watershed Alliance
NEWSC Coordinator
Chad@fwwa.org
920.915.5767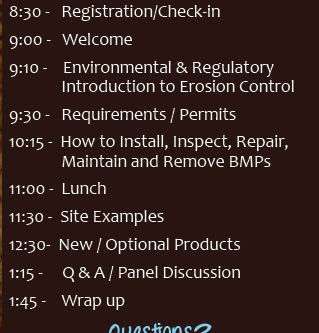 The Northeast Wisconsin Stormwater Consortium will be holding workshops for contractors, inspectors or other persons involved in erosion and sediment control activities.  Both workshops will include the same content and will run from 9:00am to 2:00pm with lunch and educational resources being provided.
Workshop Registration Fee:  $25.00
To Register for the Green Bay Workshop
To Register for the Oshkosh Workshop
*Please note: we use PayPal to process credit and debit card transactions securely. You do NOT need a PayPal account. Choose PayPal, then select Pay with a Credit or Debit Card.
Registration Deadline :  3/2/18