Aquatic Invasive Species Snapshot Day 2017: Citizen Science in action!
On August 5th, the Fox-Wolf Watershed Alliance and Winnebago Waterways Program teamed up with partners across the state of Wisconsin and Minnesota for the fourth annual Aquatic Invasive Species Snapshot Day! Over 40 volunteers in the Fox-Wolf River Basin helped to search, gather, and report invasive species that cause problems in our lakes and rivers. With sampling sites all around the Winnebago system, several teams of volunteers were trained on how to identify and sample aquatic invasive species before monitoring at several sites. Overall, no new invasive species were found in the Winnebago system on Snapshot Day! With the help of these new citizen scientists, we were able to document new populations of invasive species that will lead to improved management decisions to stop the invasion of these plants and animals!
If you are interested in helping with this event next year or in becoming a citizen scientist, contact the Winnebago Waterways Progam's Aquatic Invasive Species Coordinator Chris Acy at chris@fwwa.org or at (920) 460-3674.
We want to give a HUGE thank you to all of those who came out to volunteer! This event would not have been possible without you!
Please watch our video showing highlights from the event!
Rendezvous Site Summaries
The Menasha team had several sites in Menasha, Neenah, Appleton, Little Chute, and Sherwood. Several instances of zebra mussels and curly leaf pondweed were found in Appleton while Eurasian watermilfoil, curly leaf pondweed, faucet snails, and zebra mussels were located at sampling sites in Menasha and Neenah. Near High Cliff and the north shore of Lake Winnebago, populations of Eurasian watermilfoil, zebra mussels, and purple loosestrife were detected. In Oshkosh, several populations of invasive species were found including purple loosestrife, zebra mussels, curly leaf pondweed, Eurasian watermilfoil, flowering rush, and faucet snails. We even had a few volunteers at Hatch Lake near Iola, WI who documented purple loosestrife and banded mystery snails in the lake.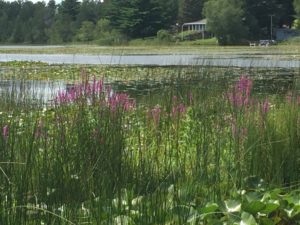 The volunteer team in Stockbridge found populations of Eurasian watermilfoil, curly leaf pondweed, and zebra mussels in several creeks and tributaries that connect to Lake Winnebago. With several years of conducting sampling for Snapshot Day, these volunteers found new populations of these invasive species further upstream than in previous years.
Similarly, team Fond du Lac found many of these same invasive species at their sampling sites. This included Eurasian watermilfoil, zebra mussels, and faucet snails. This team reported high levels of algae in the water at many of the sites they visited.
The UW Oshkosh team (Rendezvous site Winneconne) reported that they found no new invasive species at their locations. Casimir rode his bike on the trail alongside Hwy 41 and inspected the three bridges that run across Lake Butte Des Morts. He noted a lot of general terrestrial invasives on his ride, but the only aquatic species he observed were low densities of Eurasian watermilfoil, purple loosestrife, and faucet snails. Santiago inspected two locations in the Neenah area and saw curly leaf pondweed and a few zebra mussels. Hunter inspected two bridges over tributaries to Lake Winnebago in the VanDyne area. He had to walk through thick vegetation to get back to the streams. Eurasian watermilfoil and cattails were dominant in both locations. Tim inspected Sawyer Creek in Oshkosh and found a banded mystery snail. Tim found nothing at Stearns Park. Kyle inspected the Fremont bridge, and found no signs of life except for minnows. Shannon inspected six locations in Omro and Winneconne and only noted a few individuals of Eurasian watermilfoil. Olivia inspected Campbell Creek in Oshkosh and found a high density of Eurasian watermilfoil and some curly leaf pondweed.
Article written by: Chris Acy, Winnebago Waterways Aquatic Invasive Species Coordinator, Fox-Wolf Watershed Alliance. Questions or feedback? Contact Chris at (920) 460-3674 or chris@fwwa.org. Video created by: Kelly Reyer, Fox-Wolf Watershed Alliance.