Protecting the Winnebago System and Stopping the Spread of Aquatic Invasive Species
As we move into the fall and winter seasons, the Winnebago Waterways Program's Clean Boats, Clean Waters (CBCW) program is wrapping up its summer season. We are happy to report that through the efforts of our CBCW Intern, Dustin, and Winnebago Waterways Program (WWP) Intern, Cheyenne, we inspected 1,360 boats, made 1,973 contacts, and spent 216 hours on boat launches around the Winnebago System! Our program helped reduce the risk of new invasive species being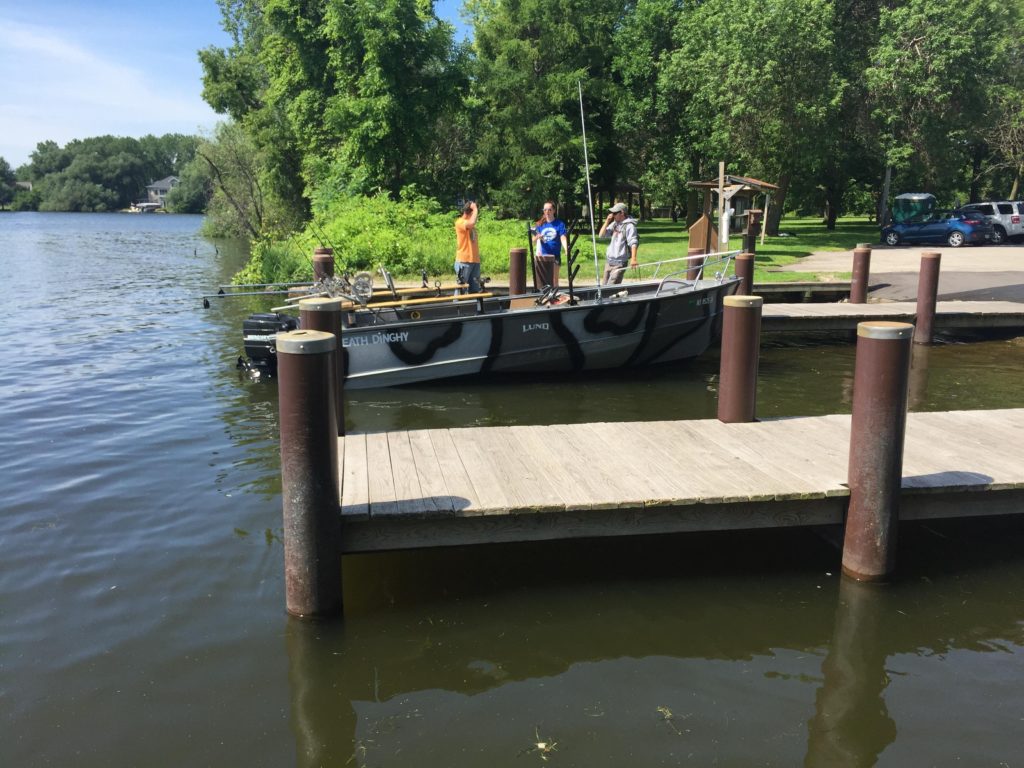 introduced into the Winnebago waterways while also protecting other lakes from the introduction of aquatic invasive species (AIS) known to be in the Winnebago Lakes. In addition to the regular CBCW duties, our interns participated in the Wisconsin DNR's Drain Campaign and Landing Blitz initiative over the summer which helped us to further our AIS messaging to the public.
Drain Campaign: June 9th-11th, 2017
This WI DNR statewide campaign helped to promote the message of draining all water from boats (including bait buckets and live wells) before leaving boat launches. Over the course of this three day campaign, Fox-Wolf Watershed Alliance staff and interns were at boat launches for over 22 hours and handed out over 450 ice packs for anglers to use to ice their catch rather than illegally transport living fish in their livewells. During the Drain Campaign, Dustin spoke with over 150 boaters, anglers, and other users of the Winnebago System about AIS prevention.
Landing Blitz: June 30th-July 4th, 2017
Landing Blitz was another WI DNR statewide campaign focused on educating the public about how they can stop the spread of AIS. FWWA distributed over 190 towels to boaters and anglers as a thank you for their efforts to stop aquatic hitchhikers. We made over 380 contacts over the course of the campaign, and our CBCW intern Dustin was interviewed by Fox-11 News about the event! Check out the interview HERE!
A big thank you to our interns this past summer, Dustin and Cheyenne!
For more information visit www.WinnebagoWaterways.org or contact Chris Acy, Winnebago Waterways AIS Coordinator, at chris@fwwa.org or (920)460-3674.
Winnebago Waterways is a Fox-Wolf Watershed Alliance program. The Fox-Wolf Watershed Alliance is an independent nonprofit organization that identifies and advocates effective policies and actions that protect, restore, and sustain water resources in the Fox-Wolf River Basin.
Follow the Fox Wolf Watershed Alliance's Winnebago Waterways Program on our Winnebago Waterways Facebook page or @WinnWaterways on Twitter! You can also sign-up for email updates at WinnebagoWaterways.org.
This article was written by Chris Acy, the AIS Coordinator for the Winnebago Waterways Program.