The Tri-County Powerboat Alliance will host / moderate a 'free" public Informational forum, Saturday, April 29th, 11 AM till 1 PM, on the shores of the Wolf River at Pier 5 / Nauti Turtle, 710 Wolf River Drive, Fremont.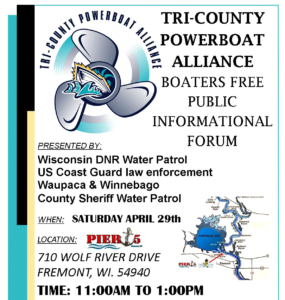 Presentations will be given by the Wisconsin DNR Water Patrol, US Coast Guard law enforcement and both the Waupaca and Winnebago County Sheriff's water patrols.
Topics will cover common challenges and goals for pleasure boaters, fishermen, sportsmen, homeowners, business owners and community stakeholders, on and around the shores of the Wolf River, Lakes Poygan, Winneconne, Butte des Morts and the Fox River through Oshkosh to Lake Winnebago.
Tri-County Powerboat Alliance is honored to be advocates of accessibility, safety and navigability for equitable use by all recreational stakeholders.
The public is encouraged to attend; free soft drinks and appetizers will be provided.
Prizes and raffle drawings to benefit the waterways.
​For more information please contact
920 450-7327 (mobile & text)
About Tri-County Powerboat Alliance
Please join as the Tri-County Powerboat Alliance celebrates its 25th year!
The 100 plus member Alliance conducts safe boater education classes, provides signs and other navigational aids, sponsors informational meetings, provides funds for dredging, shoreline riprap projects, building fish/wildlife protection zones and work with state/local government officials to protect the waterways accessibility and it's natural resources.
Like us on Facebook – Tri-County Powerboat Alliance: www.facebook.com/1TCPA/
Web site https://sites.google.com/site/tcpaweb/home​
​Contact:
Judy Johnson
Tri-County Powerboat Alliance -Public relations
​jtjfremont@gmail.com
920 450-7327  mobile & text
Tri-County Powerboat Alliance
P.O. Box 323, Fremont, WI  54940
*Information for events not sponsored by the Fox-Wolf Watershed Alliance has been taken directly out of communications from hosting organizations.  Fox-Wolf staff will do everything possible to keep event calendar updated with new events and changes to events throughout the watershed but Fox-Wolf calendar users should confirm event details with hosting organization.