Brad Bowman – As a school counselor, I care about kids and educating the whole child.  As a self-described "trout bum" and adventurer, I care about the restoration of the only trout stream in Calumet County.   Trout in the Classroom (TIC) effectively does both.  By taking classroom learning into the real, natural world, students have an opportunity to make a first-hand connection with science and the environment.  Their knowledge becomes solidified, reinforced, and REAL because it is connected to an experience with an emotional tie.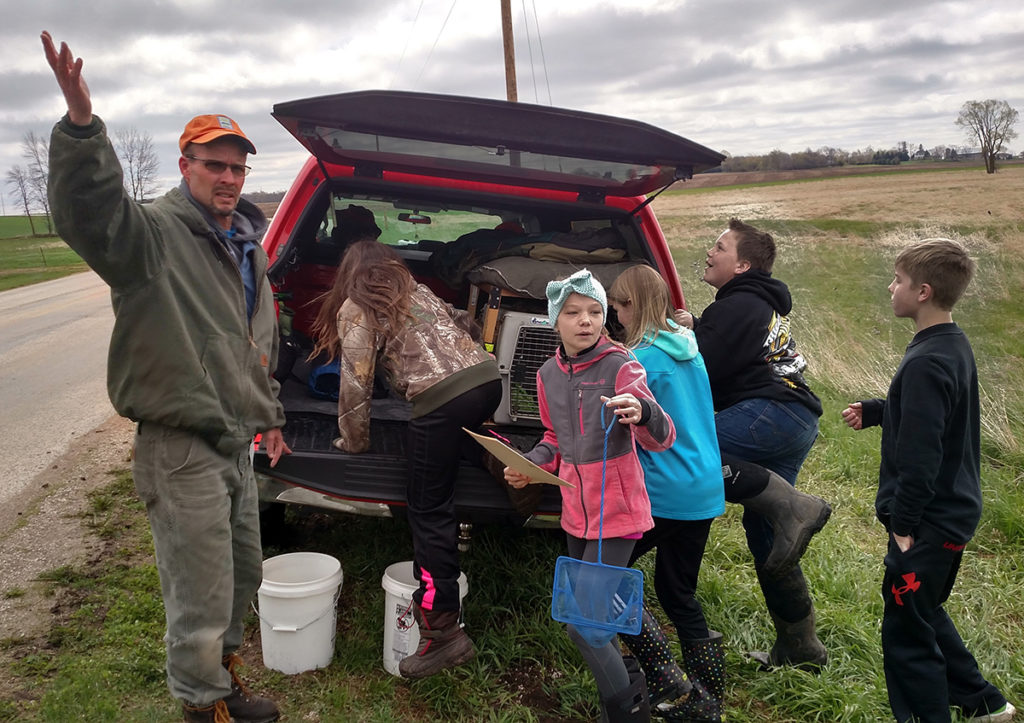 Students preparing for their field day.
I believe that all meaningful learning and growth is a result of positive relationships, collaboration, and community building.  For the second year in a row, students anxiously lined up ready to help release one of their "babies" into wild.  It was amazing to observe middle-school students reverently holding plastic beverage cups, each with their own personal fry (trout at this stage of life), ready to select a spot on Stony Brook to release it.  Many of them could be observed whispering to their trout, and one was overheard to say, "have a good life" as he released the fledgling trout into the stream.
Connections were made to the classroom.  Connections were made scientifically.  Connections were made, also, on an emotional, and spiritual level as well.  We each are a part of the intricate web of life.  The lesson was taught without words, the very best and lasting kind of lesson.  Having maintained the trout in their rearing aquariums for over three months, the students were now heavily invested not only in the trout and not only in Stony Brook, but also in the care of our precious environment.
It's quite a feat to get the rapt attention of sixth graders in the morning and sophomore Biology students in the afternoon, but on two successive cloudy, chilly days in April of 2016 and 2017, "Trout in the Classroom" did just that.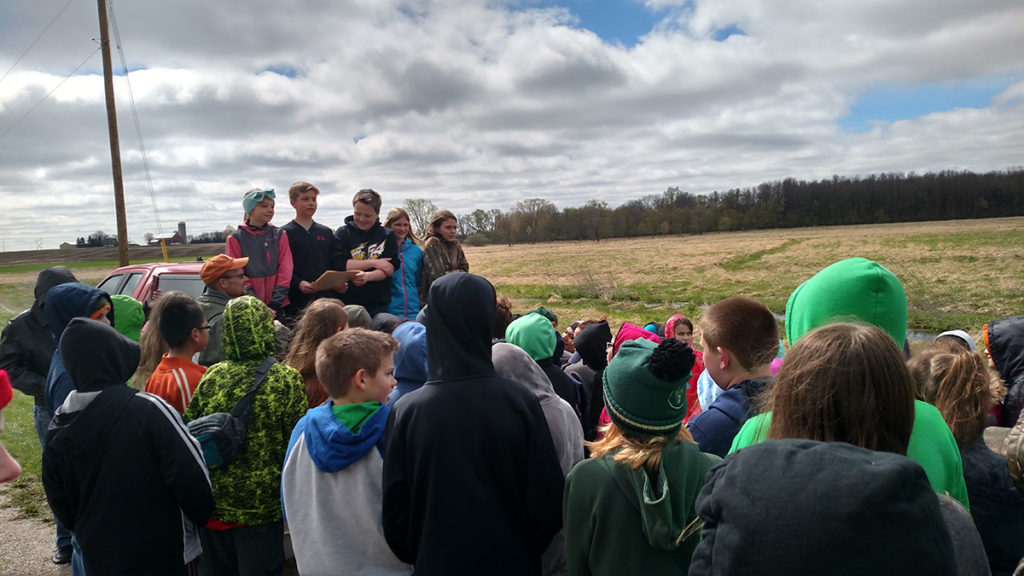 Students giving speeches from the back of a truck next to the trout stream.
Trout in the Classroom (TIC) is an environmental education program sponsored and supported by Trout Unlimited in which students in grades k-12
raise trout from eggs to fry,
Monitor aquarium tank water quality,
engage in stream habitat study,
learn to appreciate water resources,
begin to foster a conservation ethic,
grow to understand ecosystems.
Most programs end the year by releasing their trout in a state-approved stream near the school or within a nearby watershed.
During the year each teacher tailors the program to fit his or her curricular needs.  Therefore, each program is unique.  TIC has interdisciplinary applications in science, social studies, mathematics, language arts, fine arts, and physical education.
In each state, Trout in the Classroom is funded by a number of generous supporters and made more rich through varied partnerships.  In our case, the Chilton Public Schools – Stony Brook TIC is grateful for rich partnerships with our local landowner, Tim Sohrweide (and family), The Chilton Community Foundation, Fox Valley Trout Unlimited, Wisconsin Department of Natural Resources, Winnebago Waterways Fox-Wolf Watershed Alliance, and the Calumet County Land and Water Conservation Department,
In addition to the in-school curriculum and experience, Fox Valley Trout Unlimited has taken the lead in stream monitoring during the summer months, training students to use the WAVES system to assess water quality.  Because of this effort, we know scientifically that Stony Brook stays cold enough and has the water quality to sustain a population of trout.  It should be noted that there have been unconfirmed trout sightings.  The water was unusually high and fast during this spring's electro-shocking and therefore we could not positively confirm whether last year's trout survived and resided in the stream.
What are the next steps?  I envision several things in the coming years.  I would like to increase the tanks to 110 gallons instead of 55 gallon currently used.  Together with the aquaponics technology we are incorporating, this will allow greater fish health and size.  I would like to design and build signage for the release site that identifies all of our stakeholders.  And finally, I would like to begin the process of stream improvement for Stony Brook.
I am thrilled with the success, follow through, and growth of our Trout in the Classroom.  I cannot thank our stakeholders enough.  This has been and will continue to be a collaborative effort in our community.  My sincere thanks go out to all of you for helping to teach our students a sense of environmental responsibility…and have a little fun while doing it!
This…is how students are restoring the only trout stream in Calumet County.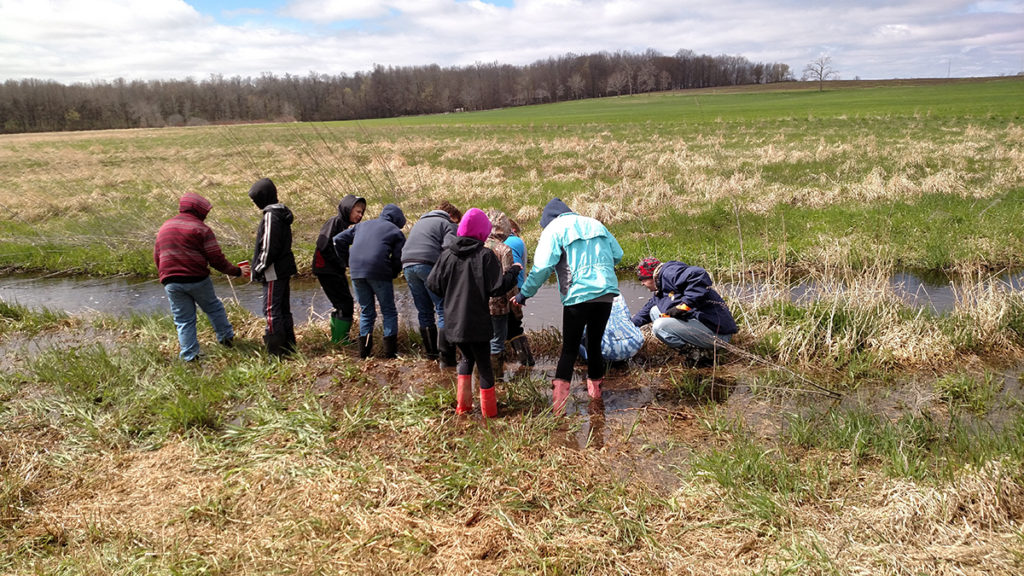 Students releasing trout into the stream.